WHY CHOOSE DRAGON HOUSE?
Our food tastes great. At Dragon House, we take great pride in preparing and serving authentic Chinese food. Each dish is prepared from the choicest ingredients sourced from local providers and made according to traditional recipes; no detail is overlooked. Our hand-battered and marinated meats, our fresh-cut vegetables, and our flavorful sauces are all brought together and cooked in the traditional Chinese style – in a wok with light vegetable oil – in order to capture the natural flavor and nutrition of the food (we do not use MSG). Every day, we strive to deliver the quality you expect in a timely manner. Under the direction of Indianapolis restauranteur, Barry Sin, our highly skilled chefs from Hong Kong create their culinary delights only after your order is placed. This guarantees the freshness and authenticity of each item on our menu.
We are committed to serving you. In a day and age when there are an overwhelming number of choices of quick service restaurants, you can always count on Dragon House to bring to the table the highest quality meals prepared with the timeliness that meets the needs of your fast-paced lifestyle. Just as important, however, is the way you feel about sharing a meal with us. We strive to make your meal a comfortable and fulfilling experience. Our smiles, our friendly service, and the warm, inviting atmosphere make eating at Dragon House a unique dining experience.
In order to make sure your voice is heard, Barry is seeking feedback on the menu. So if you have an opinion about the food, please share it with him! From time to time, Barry will also introduce new items to either the menu or the buffet. Those new additions reflect Barry's efforts to keep your options dynamic.
A part of your community, a part of your life. Dragon House is a frequent supporter of the local community, including schools, churches, and the Fire & Police Departments. We are also a proud member of the Fishers Chamber of Commerce.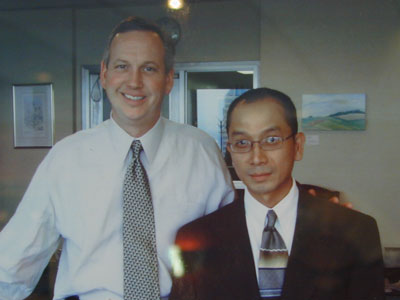 Barry Sin
Restaurateur
Barry has been in the food and beverage business since 1981. Barry began his career by managing several Darden Restaurant properties, namely China Coast, Red Lobster, and Olive Garden.
In 2000, Barry launched his own venture by opening Dragon House. Since then, he has been a committed and passionate purveyor of authentic Chinese food.